Scroll down to find information about products used to advance well casings
♦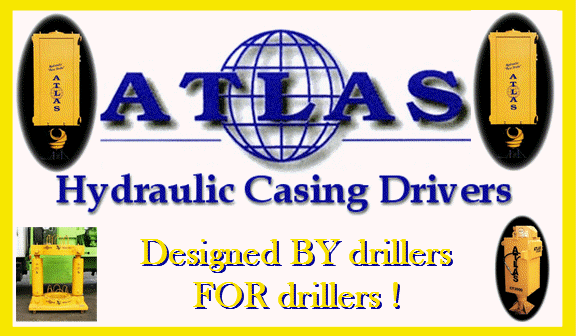 Atlas Hydraulic Casing Drivers
5273 Anderson Road
Courtenay, BC, Canada V9J1S7
Fax: 250-337-5136
Phone: 250-337-5030
Toll-Free: 866-338-5090
Email: AtlasManufacturing@Shaw.ca
Website: www.CasingHammer.com
Designed BY drillers, FOR drillers. After drilling wells for 43 years, we designed our own casing hammer. It didn't take us, or the industry, long to realize that we had made a product that was needed in the market - a casing hammer that truly works. Our Hydraulic to Mechanical lifting design eliminates the expense and frequent repairs of air systems. Our hammers are easy-to-use, over-built and will save you time and money.
♦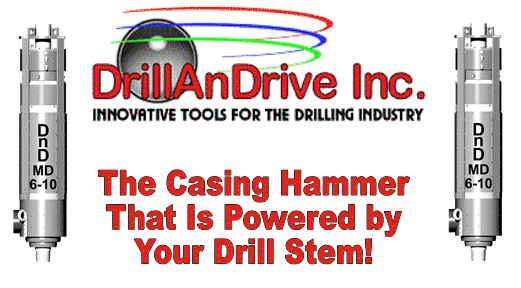 DrillAnDrive, Inc.
31 Millcrest Road SW
Calgary, Alberta T2Y 2K9
CANADA
Phone: 403 254 6029
Toll-Free: 888 683 2633
Fax: 403 254 6037
Website: www.DrillanDrive.com
Email: Brian@DrillanDrive.com
The DrillAnDrive Casing Hammer allows you to install casing through cavy formations in a fast and efficient manner - saving you a great deal of time and money. Our Casing Hammer uses the RPM's of your drill stem to supply the power needed to hammer the casing down - pounding at 2 beats per revolution - with up to 50,000 Lbs of down pressure. Easily & quickly installed and portable from rig to rig, the DrillAnDrive Casing Hammer will make installing casing a breeze. Visit our website for more information.
♦